Interview with Rebecca Forster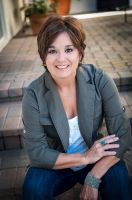 When did you first start writing?
I was a voracious reader, but I always thought a writer was 'someone else'. So when I went to college and then graduate school I envisioned a long and happy business career. Then one of my clients requested my marketing team meet at his home. That's where I met his wife - Danielle Steel. I didn't know who she was and when I found out she was an author I flippantly said "I could do that!" That was it. A colleague dared me to write a book and I took that dare. I was in my thirties. Talk about the floodgates opening! I sold my first book and writing became my passion. I wrote for major New York publishers for 25 years. Three years ago I went indie. I can barely remember a time when I didn't write and will be forever grateful for the dare.
What motivated you to become an indie author?
The decision to become an indie author was the result of a perfect publishing storm. Bookstores were disappearing in my area, digital devices were being embraced by the readers, and I had written a book, BEFORE HER EYES, that my publisher thought pushed too much of a creative boundary and decided not to publish it. Just as I was wondering what to do, I read an article about Smashwords and the rest is history. I published BEFORE HER EYES and it was voted B&P's Readers Choice Best Mystery. Over 8,000 readers voted. I never looked back.