The ebook versions of Desert Heat, Cabin Fever, No Lady and Her Tramp, and Second Chances are discounted 50% off the list price at Smashwords.com. Get your copy for only $1.50 each. The coupon code can be found on the book page at Smashwords. Use the code when you check out.
Kristie Leigh Maguire Smashwords.com Page
Desert Heat - sensual romance
From the scorching sun of the Mojave Desert to the brilliant neon lights of Las Vegas, the sexy steel magnolia Marcie Treyhorne blazes a trail of passion through the desert sands. Her heart is torn in half as her desire for her new boss grows into a raging inferno while her love for her longtime husband remains as steadfast as the ancient desert mountains that surround Mojave Junction, California.
Cabin Fever - sensual romance
The beautiful and sexy Marcie Treyhorne is a steel magnolia who knows what she wants and isn't afraid to go after it. Marcie's story began in DESERT HEAT. Her saga continues in CABIN FEVER. Marcie leaves the blistering heat of the desert but the searing passion she carries to the northern Nevada mountains will melt the deepest of winter snows.
No Lady and Her Tramp - adult romantic comedy
A quirky hysterically hilarious read that is down and dirty! No Lady and Her Tramp is one woman's accounting of the trials, tribulations, and antics of her life in President Park, a run down trailer park in Grapevine, Kentucky. The steamy, very descriptive sex puts Harold Robbins' books to shame. The one thing Mr. Robbins' books did not have is the humor that illuminates in this work of art.
Second Chances - sweet contemporary western romance
Set in rural Wyoming, Second Chances is a sweet contemporary western romance that will warm your heart. Mike Farley stomped on Jane Porter's heart with his cowboy boots. When he realized he had made the biggest mistake of his life, could he ever get it back the way it should be? Ma Liz Farley and Pa Jim Porter decided they had to do anything they could to make it right.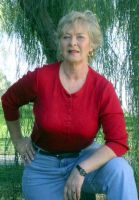 Kristie Leigh Maguire
is the author of Second Chances, Affairs of the Heart: Desert Heat and Cabin Fever (Collector's Edition), Desert Heat, Cabin Fever, Emails from the Edge: The Life of an Expatriate Wife, From the Far Side of the Sun, and co-author of No Lady and Her Tramp, as well as a contributor to several anthologies.
She was voted Best Up and Coming Author of the Year and her novel Desert Heat was voted Romance of the Year by the Affaire de Coeur Magazine Reader/Writer Poll. Her novels Cabin Fever and No Lady and Her Tramp placed in the Top Ten in the Preditor & Editor's Poll. Her novel Affairs of the Heart: Desert Heat and Cabin Fever (Collector's Edition) was an Amazon.com Number One book in Sensual Romance.
Kristie Leigh Maguire and her husband have lived all over the United States and many foreign countries while following his career. While living in Japan, she found it very difficult to find books to read that were written in English. This situation was intolerable as she was an avid reader and had been known to resort to reading cereal boxes if nothing else was available. Have you ever tried to read a cereal box written in Japanese? It was not a pretty picture. Ms. Maguire began writing her own books just to have something to read. She discovered a new passion in writing.
Although Kristie Leigh Maguire is originally from the South and will always remain Southern at heart, she and her husband now live in Nevada. During her expatriate years she lived in St. Croix, Aruba, Thailand, Japan and three times in Saudi Arabia and visited many other countries.
Ms. Maguire is the Founder of Star Publish LLC, the Co-Founder of Global Publications Inc. (GAP Inc.), the Owner and Designer for Book Covers and More, and the Founder of NUW (Not the Usual Way) Authors Community.